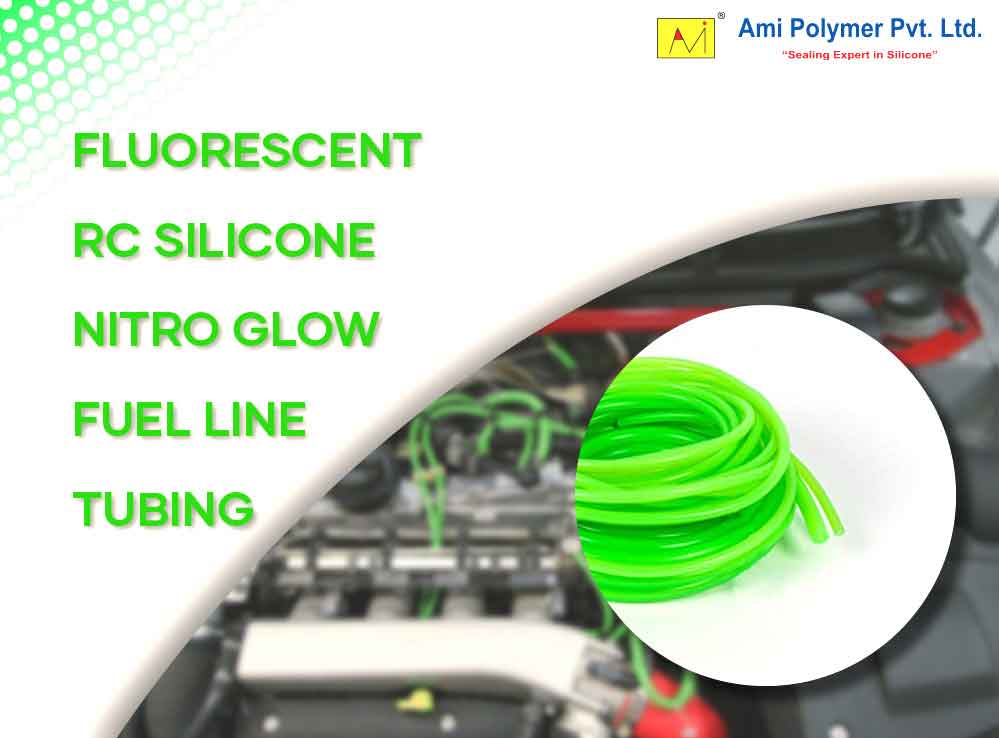 Ami Polymer Pvt. Ltd. are launching a variant of Fluorosilicone tube with its end application as a fuel transfer tube in RC Nitro cars. The tubes are imparted with fluorescent shade of colors that glows in darkness.

Fluorosilicone elastomers are of high demand in applications operating under wide ranges of temperatures and in contact with aggressive fluids. Replacing one – CH3 with – CH2CH2CF3 gives the below listed properties:
Better resistance to non – polar hydrocarbon fuels, oils and solvents.
Increased specific gravity.
Improved solubility in polar fluids such as esters and ketones.
Enhanced lubricity.
Lower use temperature by elimination polymer Tm crystallization.
Fluorescent Fluorosilicone rubber tube is the ideal choice for fuel tubing for all glow and nitro fueled radio controlled models. It is favored amongst the model industry for its superior quality and resistance to Methanol and nitro Fuels, along with its outstanding aesthetic qualities.

Fluorescent Fluorosilicone fuel tubing with a 2.3mm inner diameter and 5.5mm outer diameter is the ideal choice for all glow and nitro-fueled radio controlled models. The 2.3mm inner diameter of this fuel line enables it to have a much firmer grip to the carburetor and fuel tank connectors compared to the thinner-walled 3mm inner diameter version.

Basic properties of Fluorescent Fluorosilicone include its excellent low temperature flexibility, superior heat temperature and flame resistance with service temperature range of -40 °C to 180°C.

Fluorescent Fluorosilicone tubes provides the excellent weather, water and ozone resistance which is more suitable to work in the exterior end application where it comes in direct contact with the water, ozone and UV rays.

The specialized properties of Fluorescent Fluorosilicone provides many of the benefits resistances to non-polar solvents, fuels, oils, acids, and alkaline chemicals, making it more suitable for the Turbocharger hose inner linear. These benefits make it the right solution for tubing used in many industrial, automotive, aerospace and aviation applications.
RC Nitro Fuel Transfer tube
Turbocharger Hoses inner liner
Automotive
Electronics
Energy
Oil and Gas
Petrochemical
Article by - Rakesh Panigrahi & Joel Lalucherian ( Research & Development Team)

For more Details reach us at export@amipolymer.com , research@amipolymer.com

Website - www.amipolymer.com