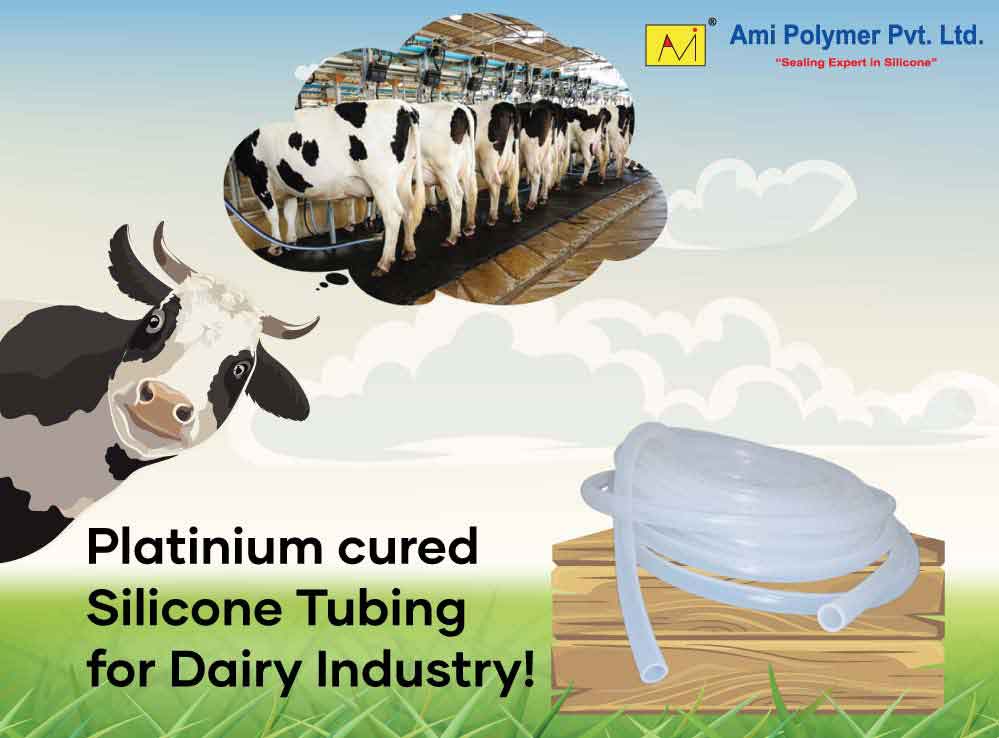 SILICONE TUBING ESPECIALLY DESIGNED FOR DAIRY INDUSTRY!
Milk contributes more than 60 per cent of the total livestock production and accounts for nearly 67.69 per cent of the value of the output of the livestock sector's contribution to the national GDP. To alleviate the labour involved in milking, much of the milking process has been automated but still they face many challenges during milk processing in dairy Industry which leads to loss of money, loss of time, loss of quality and much more.

First and foremost, kink resistance is very important - In Dairy Industry kink resistance properties plays a vital role as kinking can happen when a cow stucks in tubing or it moved around during Installation which can cause leaking and loss of milk - A huge messss!!!

Secondly, Tubing must be weather resistance so that it doesn't become stiff especially during winter season as stiffness can lead to delay in production since it takes much time and becomes very difficult during installation.

Also Tubing should be flexible but still retains its elasticity of feeding retention and not become too easily stretched out. Additionally, tubing must have tear resistance ability as it can be torned on / off feedings, dropped on floor or a cow steps on it that's why tubing with tear resistance ability very crucial to avoid constant repair.

It also must have resistance to milk fat absorption which can attract dirt and negatively infect hygiene as milk fat build-up softens the tubing and reduces its strength or even cause discoloration.

After examining all this challenges and to overcome it , We at Ami Polymer Pvt Ltd come-up with one stop solution and here we are Introducing Platinum Cured Silicone Tubing which ensures milk processing or transfer of milk must be safe, hygienic and high performance. Platinum cured silicone Tubing is designed for the application in Automatic milking system / rotary milking parlour/ robotic milking / Peristaltic Pumps. Our Platinum Cured transparent silicone Tubing known for its ultra-smooth bore to prevent any particle entrapment, reduces the chances of butterfat occurrence and it can also help to eliminate the probability of Microbial growth within the milk transfer line and ensures smooth transfer of milk.
Features and Benefits
Superior Flexiblity , Kink Resistance properties.
Clear Transparency allows easy visual Inspection of Milk during process.
Smooth bore to ensure less contamination and resists butterfat build-up.
Water repellent properties allow easy cleaning and complete soakaway.
Excellent Weather resistance properties.
Non-toxic, non-haemolytic.
Free of plasticizers like phthalate/bisphenol-A
Higher Shelf life
Free of any heavy metals and hazardous substances.
Sterilisable by using different techniques like autoclaving, Ethylene oxide, Gamma radiation.
Dimension range 1mm ID – 3000mm ID dimensionally accurate & excellent workmanship and finish
Customized Colour , dimension and hardness available on demand.
Good flex fatigue resistance enhance Milking peristaltic pump life & Milking Dosing Pump Life.
Major Applications
For Raw milk transfer.
For Bulk milk transfer.
For Rotary Milking Parlour line.
For Milking Dosing Pumps.
For Milking Peristaltic Pumps.
Physical Properties.
Compliances
Manufactured and packaged in clean room of class 10000 facility audited by TUV Nord.
FDA 21 CFR 177. 2600
USP CLASS VI
TSE/BSE FREE
PHATHALATE FREE
ROHS COMPLIANCE
DMF #26201
"The Company believes in "Be in business with ethics" and assure Quick Development, Fastest Delivery, Ultimate Quality and also very Competitive Rates".